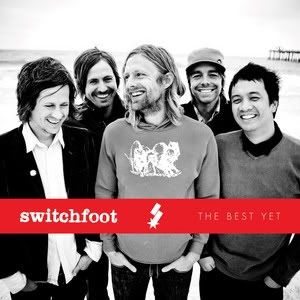 For all their achievements, including a half-dozen acclaimed albums and more than twice as many signature chart singles and album tracks, Switchfoot has yet to release a 'greatest hits' anthology.
For the first time, 'The Best Yet' pulls together Switchfoot's history representing all six albums they recorded on the indie re:Think Records and Columbia, where their 2003 breakthrough broke the platinum barrier.
"These are songs that we would like to play for someone who has never heard of Switchfoot," says Switchfoot member Tim Foreman. "There is quite a wide musical journey expressed in that list, and we're very proud of that part of our history as a band. Beyond that, we've been digging into the vault to find rare video content for the deluxe edition, so that the hard-core fan that does decide to buy it won't be disappointed."
The 18-song collection 'The Best Yet', featuring one newly-released song, "This Is Home" (from the summer 2008 movie soundtrack of Disney's The Chronicles of Narnia: Prince Caspian), will be available at all physical and digital retail outlets starting November 4 through Columbia/Legacy, a division of Sony BMG, and Credential Recordings, a division of EMI Christian Music Group.
In addition to the songs, the Deluxe Edition of 'The Best Yet' features 14 videos, including not only its huge MTV/VH-1 played hits, but also rare and never before released for sale videos, "The Blues", "Happy is a Yuppie Word" and "Company Car".
The release of 'The Best Yet' follows (by two weeks) Switchfoot's conclusion of the groundbreaking 23-city "Music Builds" Tour. A portion of the funds raised during the tour benefits Habitat for Humanity affiliates located in the tour cities.
Switchfoot - Jon Foreman (vocals, guitar), his brother Tim Foreman (bass, backing vocals), Jerome Fontamillas (guitar, keys, backing vocals), Drew Shirley (guitar), and Chad Butler (drums) - have maintained a strong commitment to social and humanitarian causes ever since their ascendance into the rock pantheon. Since the band's inception, they have been actively involved in such projects as DATA, Bono's 'One' Campaign, Invisible Children, Habitat for Humanity and To Write Love on Her Arms. They also founded the Switchfoot Bro-Am, a surfing and music benefit-event